Hilo, Hawaii – "For me Art is the Temple for the Inquiring Souls.  Through art, I search for wholeness," says Phan Nguyen Barker.  She is one of a  small number of Vietnamese American artists who never stops creating.  Mrs. Phan is a North Vietnamese woman, with a light soaring voice and a willowy figure.
"Walking Through Mist"  and a sad  memory
With over 50 years in art, this artist has produced 25 solo exhibitions  –over a thousand artworks.  Her latest exhibition, "Walking Through Mist," held at East Hawaii Cultural Center, in Hilo,  December 5 to January 22, 2021, was very successful.
The Poet Caroline Garrett wrote:  "The journey through Phan Nguyen Barker's Walking Through Mist  is rewarding –both a delight and a sober contemplation."
Three types of artwork are in  Walking Through Mist  –wall pieces, installations, and sculptures.   They tell stories of a young Phan many years ago as she moved from North Vietnam to South Vietnam.   This series is her favorite.   The artist shared that she used a myriad of natural materials from her garden and from Kilauea Volcano National Park,  a few miles from her home.
"These artworks  hold the energy from this land, woven with the memory of my  motherland.  It's quite mysterious," Mrs. Phan added,  "In my work I reveal myself deeply and openly, and hope viewers will be moved by this energy."
In "Walking Through Mist," each artwork carries a story of its own.  One of these 19 pieces is entitled "WIN = LOSE."   "For me, there was no winning the war –both sides suffered casualties.  I wish the United States had helped the Vietnamese build roads, schools, and hospitals.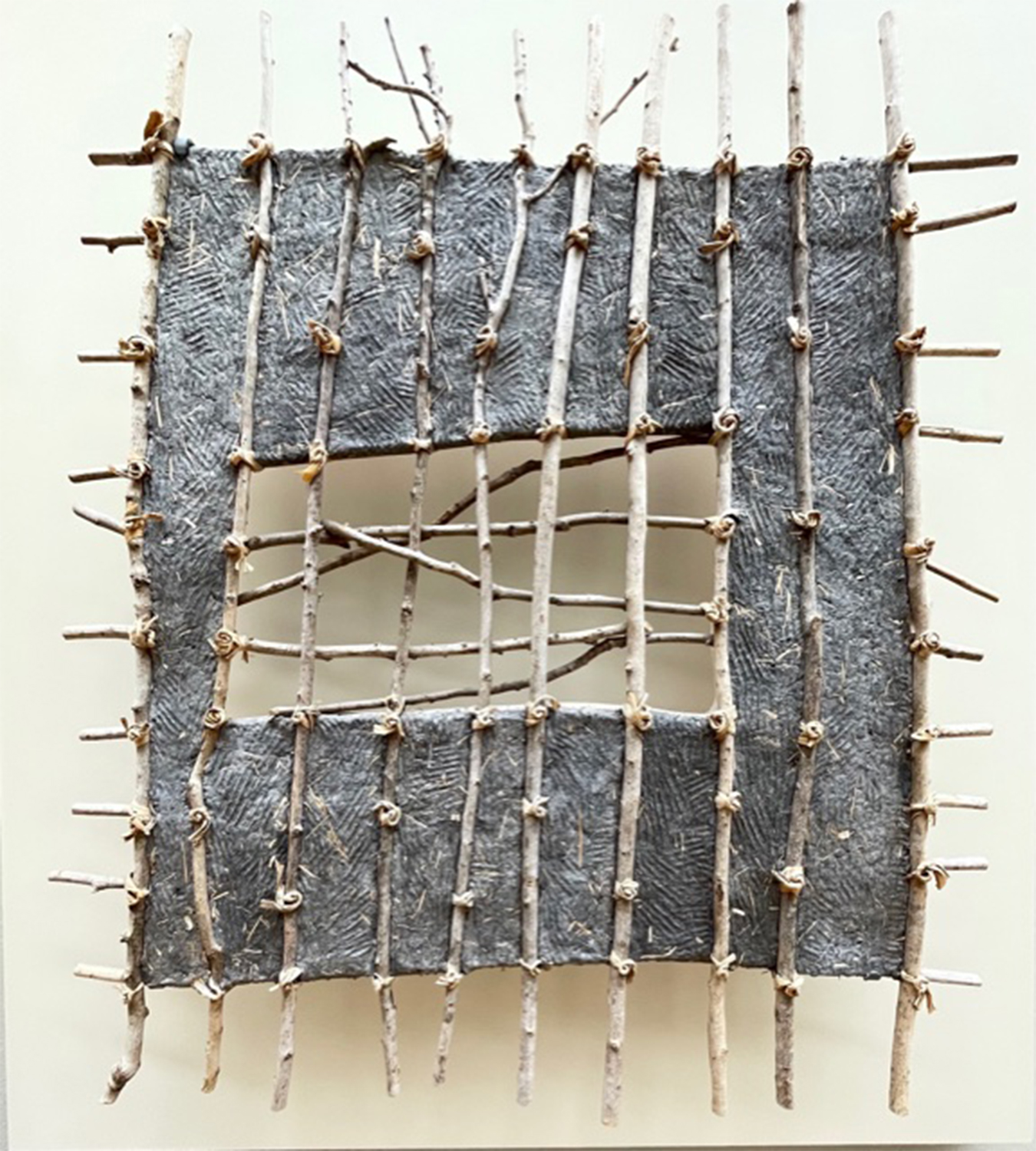 Helping us fighting the civil war  making it  bigger and thus caused more casualties.   War destroys a country in so many layers –physically, spiritually and emotionally, for many generations."  She lamented.
Another piece,  "While Father Was Away" tells the story of what the artist and her two sisters experienced while her father was away teaching in the nearby village.  The piece is constructed of bamboo, mourning cloth, thread, yarn, and woodcut printed paper.
Her father, Nguyen Giao Huan, was born in Tu Chau, Ha Dong, North Vietnam.   "My father was one of four sons of the village  herbalist.   He  worked as farmer, but when Mother passed away,  he became a teacher in a village named Voi."
In 1955, the country was divided,  her family moved to the South, settled in Cu Chi, then moved to Bien Hoa.   He worked as a policeman  during the day and attended night school.  He was promoted to 2nd lieutenant then to Lieutenant and became the  Head of Internal Security in the Police Department of Bien Hoa Province.
In 1975, the communists took over the South, and her father was sent to Re-Education Camp.   After getting out of  prison, the family went to America, but six months later her father passed away in Oklahoma City.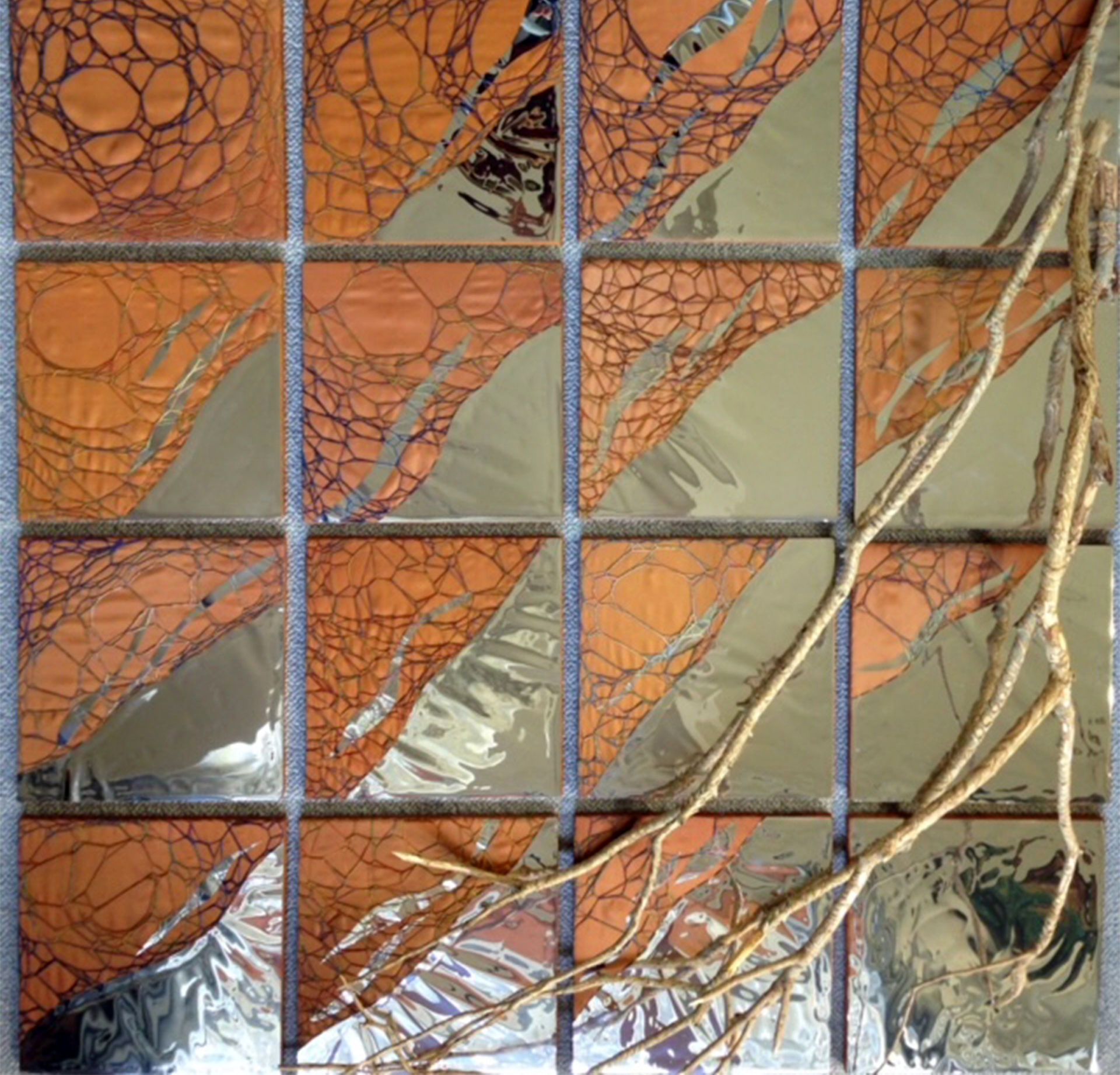 The Creator arranged her artistic path
Not wanting her to think about the past sorrow, we pulled her back to her passion for art, asking her what inspired her to become an artist.   Mrs. Phan  recalled:   "In 1961, after I failed the test to enter the famous Gia Long High School, Father suggested that I take the entrance exam to  the L' Ecole des Arts Applique de bien Hoa.  Today it is the Dong Nai College of Decorative Arts.   Looking back, I realized that this path must have been laid out by the Creator.    I not only passed the exam, but my score was also the third highest,   and I was awarded scholarship."
On April 9, 1964, she graduated from art school, but was not allowed to continue her art education, so she returned to regular academic study at Ngo Quyen Highschool.   At this time, she was only 20, but her step-mother often grumbled: "If you are blessed like others, you would have several children by now."  Phan felt that she was not blessed and was  lonely.
During the war,  Bien Hoa Air Base was bombarded  about once a week.   American soldiers were everywhere.    Bars and teahouses grew as fast as mushrooms.    Her life and the life of people in the area fell apart.  She worked on Bien Hoa Air Base as a  clerk typist/interpreter for two years and in 1969 Father Major James Cain helped her to come to the U.S.
The first city she arrived in was Phoenix, Arizona.   After graduating from Arizona State University,  she taught art in an elementary school for three years.    Her husband was an electrical engineer, a very successful inventor, and the couple moved to Morgan Hill, California,  to be close to the company who bought the design.   "Northern California was rather cold, so we moved to Hawaii."    That was in 1983."
Now she lives in the Big Island, not too far from the active  Kilauea Volcano.  The scenery inspired her—from the little flowers to the gigantic protea,  from the white sand beach to the black lava bed.   From here, she created many series of paintings using dye and silk.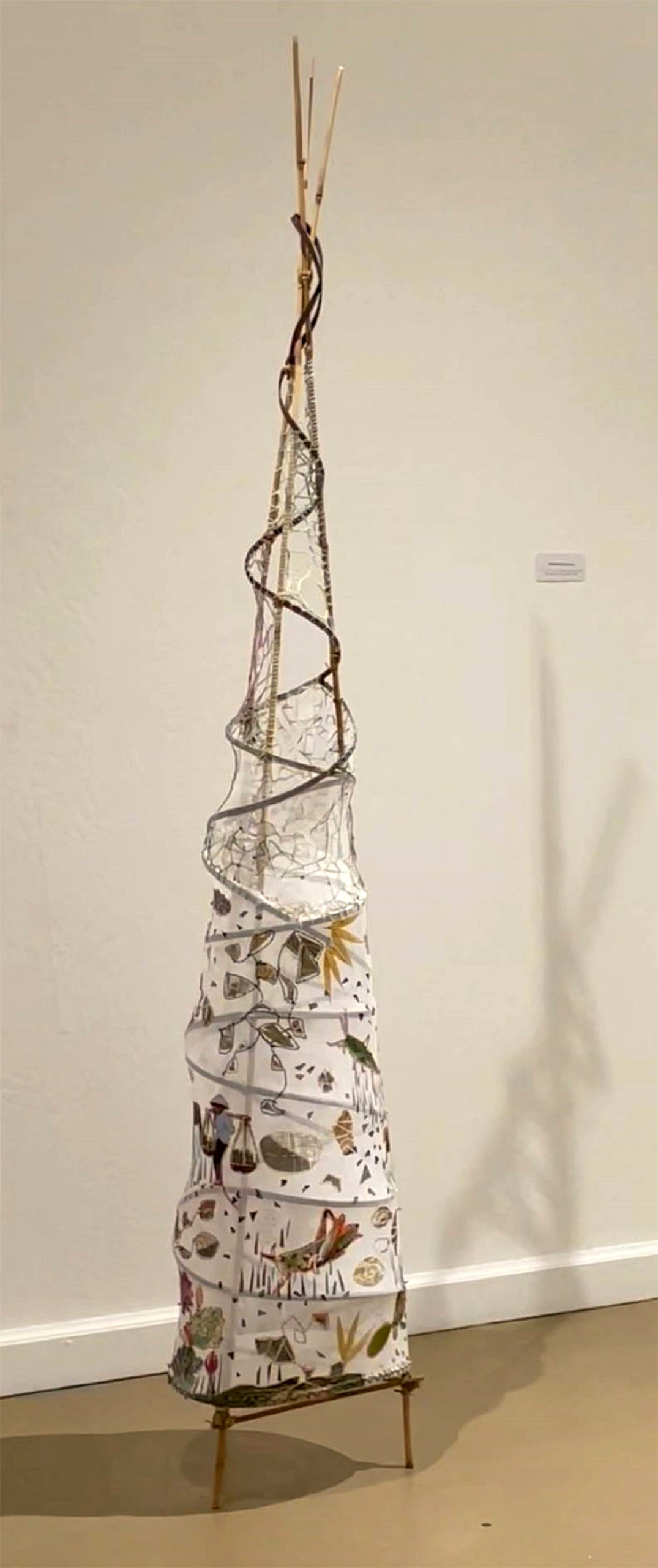 Challenge verses creation
"One of my favorite thing to do is hike.  I  compared these hiking paths with my life — up and down, in and out.  The future could bring excitement or disappointment."   Artist Phan threw herself in creating.   She painted very big paintings — the Waimea Canyon of Kauai.   Then she painted a series  of works focusing on the reflection of water.
"In 1990, a scientist came to Kona, where I was living, then, to lecture on  the environment.   He said,  "If we don't  care for  this earth, one day soon, humanity and the earth will be annihilated."
In response, Phan painted the Wow Kele  O Puna Rainforest.
In 1991, she  was planning an exhibition at Volcano Art Center, where visitors from all over the world  came to see the active  Kilauea Volcano.   But she began to lose her passion for  painting seascape, flowers, and even the forest.   She looked at this as an opportunity to be creative and challenged herself to find a new path.
While searching, she found an article in The Kona Gazette about the insects living in the Puna Rainforest  by biologist Bill Mull.   The article described  two kinds of butterflies and one is the Kamehameha, named after the great king Kamehameha, founder and first ruler of the Kingdome of Hawaii.
"A light went on in my head.  Why not paint the rainforest, the Kilauea Volcano through the eye of a butterfly, or the caterpillar?  I went to the library to find books on the life cycle of a butterfly and realized there is a correlation between you and me and the butterfly."  She explained.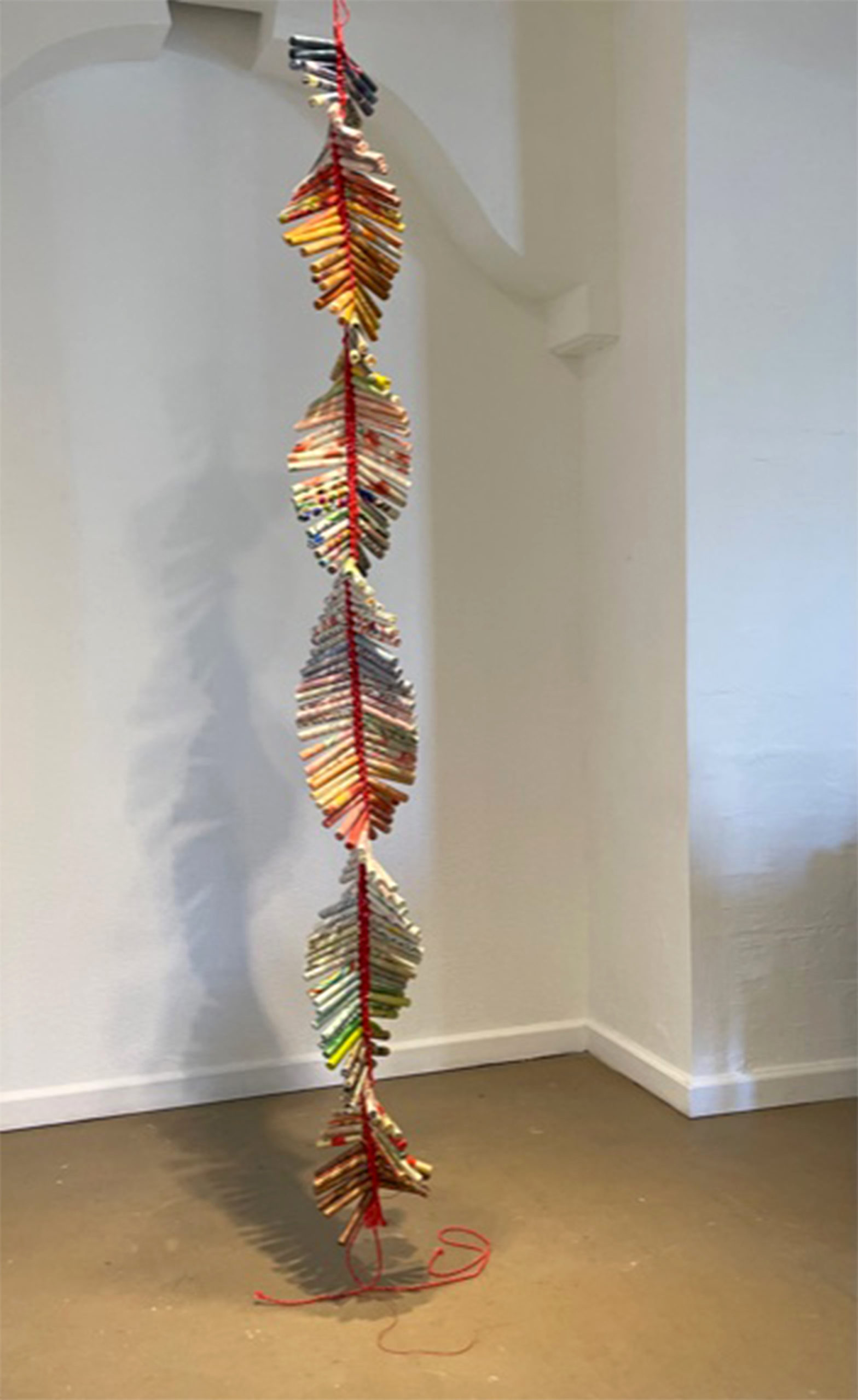 "Healing the wound" through art
At the beginning of 1992, Phan returned to Vietnam,  the first time after 23 years.  "This was the most meaningful trip in  my life, a spiritual journey, establishing a relationship with my sister.  Returning to North Vietnam, I saw my birthplace and visited my mother's grave—a pile of dirt, a little cross, not enough to provide shade nor to keep  the rain off.   After 37 years, so much had changed in my motherland."
"My sister burned incense, and everyone prayed and chanted.  I stood on the side like a total stranger from another planet.   I felt dreadful, thinking that I must leave this place, or I would explode.   The image of my mother's grave, a pile of dirt with a little cross was heavy on my soul."
"Returning to Hawaii, I was beside myself.  I was feeling all kinds of emotion –pain, guilt, anger, depression, confusion.   I started many projects and finished none.  Until the beginning of 1993, I felt better and started a new series.   I had strong images of how they should be, and the work started to emerge.  The White Mourning Cloth Series was about making peace with the part of my soul that was in pain all these years, a Spiritual Purification for the souls of the people who died in the Vietnam War,"   she continued.
"Then when I visualized the scene of the opening of the exhibition,  I saw the viewers through "the window" of the artwork.   Suddenly, I realized they would become part of the work.  I asked myself  "What about their pain, their sorrow, their unresolved  issues?"   I ask myself:  "Are we not ONE SPIRIT, ONE CONSCIOUSNESS, ONE HUMANITY, ONE WORLD?   Then, we must have one pain, one sorrow, and the same unresolved issues.   We can heal ourselves and consequently, heal others.  We heal ourselves; we heal the world."   She brought this philosophy into her abstract art, and her art metamorphosed with her.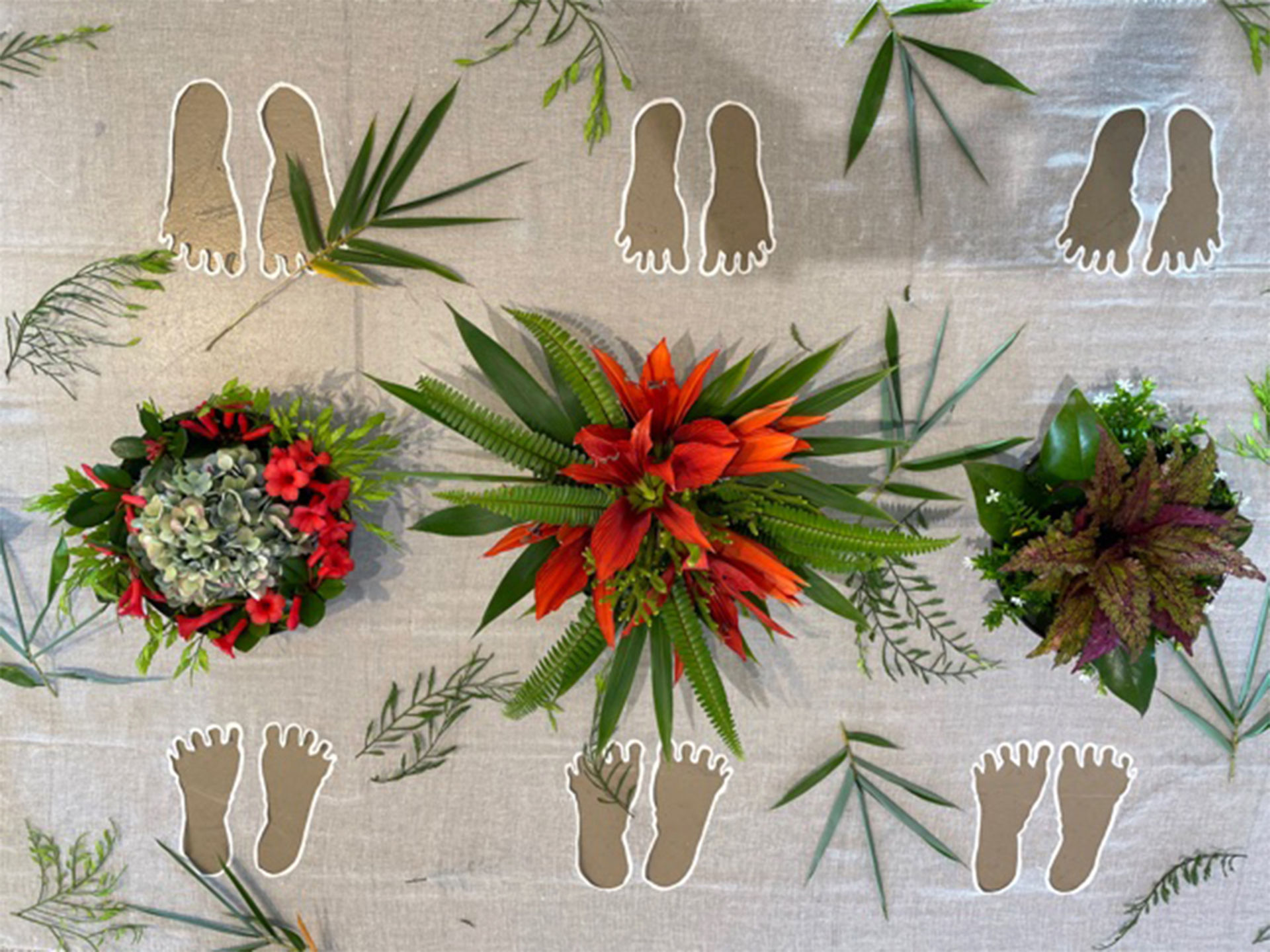 Art and spirituality
Before moving into abstract, her work sold like "fresh shrimp."    Even though it is difficult to understand abstract art and there is a lack of  appreciative viewers, this series of abstract representational dye on paper was the reflection of her growth both artistically and spiritually.
This artist refers to herself as a "gardener."  The COVID-19 pandemic was a perfect time for her  to devote  to her backyard.   She loves nature—trees, shrubs, flowers, so when they need trimming, she had hard time throwing the cuttings away and so they became art material.    " My art transformed as my life changes.   This is the spiritual path that I follow,"  she confided.
The 24 year old memento
The artist recalled while talking to The Daily Newspaper Nguoi Viet:  "I had the honor to meet Mr. Le Dinh Dieu, the former CEO and editor of Nguoi Viet.   I also participated in an exhibition in Southern California with Vietnamese artists there 20 years ago.
In 1997, she was invited to be part of the exhibition "An Ocean Apart" through the Smithsonian Traveling Exhibition Service which traveled to a dozen museums, one of which was the Laguna Art Museum in Orange County.   She received a letter from the Senior Curator Bolton Colburn asking her to be their guest at the opening ceremony.  " I was so ignorant,"  Mrs. Phan laughed:  "I could afford the ticket from Hawaii to California, but I wanted the museum to pay for the trip. They said there were no funds for that."
Phan kept the letter all these 24 years as a souvenir.   And now, instead of hiding the memento,  she wishes to be invited to have an exhibition in the Orange County Museum of Art.   The artist explained that the reason she wants to exhibit in  Orange County because of the hundred thousands of her countrymen living there.
The life of this woman artist, Phan Nguyen Barker,  was full of ebb and flow, and (tu, bi, hi, xa,) the four immeasurable, loving kindness, compassion, empathetic joy and equanimity.   Even though  well-known, she had never thought that she was talented.   "At my age, people meditate, chanting  prayer, or go to church.   Me, I hike in the forest and create artwork.   Hawaii Volcano National Park  is my "church" and  making art is my prayer."
—
Translator: Phấn Nguyễn Barker
Edited by Susan Stann, ESL Professor, Stanford University.